Meet Oswald, or as his friends fondly call him, Steroo. His family calls him Nana Banyin, his wife calls him Honey, and his maternal uncles and cousins all call him "Gariwater." He's just hit the big 5-0, and you know what they say—life begins at 50! Oswald's journey so far has been a rollercoaster of experiences, wisdom, and laughter.
Oswald, known as the Director of Corporate Affairs at NHIA, is a man of many hats. He's not just a corporate whiz; he's also a master of friendship, entertainer extraordinaire, a maestro of alumni connections, and a superhero dad and husband all rolled into one.
`
Oswald has always been a leader, and he even held the impressive title of IGP (Inspector General of Police) while he was in Primary School at Christ the King School. Now, that's some early leadership experience!
You see, Oswald has a secret, a treasure trove of wisdom he carries from his father. It's all about inner peace and staying humble. His dad's golden rule?
"Be firm but fair, always." Oswald lives by this mantra, and it's made his journey through life all the more remarkable.
Now, here's the scoop about his job—it's like a rollercoaster. Oswald rubs shoulders with the big shots, the decision-makers, and the vulnerable alike. It's like a backstage pass to life's greatest show, and it reminds him never to take anything for granted.
Oswald has held many jobs but loved his entrepreneurial adventures most of all. Young, eager, and full of ambition, he once dove headfirst into the wild world of entrepreneurship by taking a shot at running a trotro transportation service with his trusty partner-in-crime. In this daring escapade, while his partner steered the ship, he enthusiastically assumed the role of the "trotro mate," ensuring that passengers paid their dues along the bumpy journey. However, a nagging fear loomed over him like a dark cloud. He couldn't shake the worry that one day, a dazzling young lady would spot him in the midst of his not-so-glamorous gig, particularly when the trotro decided to throw a mechanical tantrum and break down in spectacular fashion!
When he wasn't operating his trotro, Oswald conveniently "borrowed" his mum's Mazda RX 7, a bright yellow beauty, to cruise the vibrant streets of Accra. His goal? To impress his then-girlfriend, now wife, Anita Baker. Oswald's love story with his wife began in the adventurous days of 1993 when he was a sprightly 19-year-old. Fast forward 30 years, and their love is still going strong, now accompanied by the joyful presence of their four lovely children.
But Oswald's not all business and cars. No way! Back in 1995, when JoyFM first hit the airwaves, Oswald landed a gig at Joy, and oh boy, those were some seriously fun times!
He even made a memorable appearance in a couple of commercials. Who could forget "Fan Ice… so nice, nice, nice" and the classic "UB hair relaxer" too? Oswald knows how to leave a lasting impression!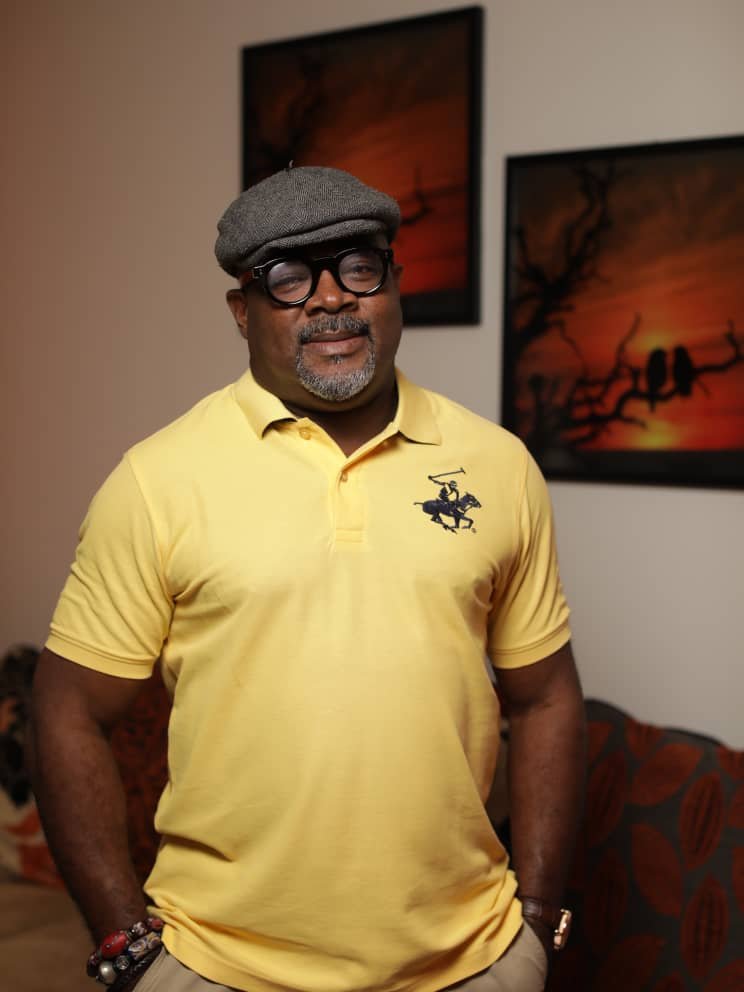 Oswald isn't just your everyday guy; he's a dynamo of fun and excitement! He's the life of the party, the laughter in the room, and the guy who can't resist breaking into a dance whenever he hears a catchy beat. He had some serious moves on the dance floor, and you could say he was the undisputed breakdance king in his heyday!
If he could have dinner with anyone from history, Oswald would pick Nelson Mandela. Why? Because Mandela's life journey is like a blockbuster movie, from a regular guy to a political superstar, from years in jail to freedom, and finally, to becoming the big boss.
When it comes to travel, Oswald's heart skips a beat for Israel. Sure, it's got its share of turmoil, but that's what makes it all the more intriguing. There's always something new to discover in the land of history and mystery.
Now, turning 50 is a milestone, and Oswald is all about embracing it with open arms.
He's even acquired some cool hobbies, like walking and golfing. And guess what? They're not just for fun. They're his secret weapons for staying healthy and kicking stress to the curb. Oswald's on a mission for a healthier life! He starts his day with a brisk walk, counting steps and tracking his heart rate. But here's the fun part – he's not keeping it to himself! Oswald shares his daily walk stats with friends and family to inspire them. He knows a walk can work wonders, so he's rallying everyone to join in. Oswald's not just walking; he's leading the way, one step at a time!
Oswald has learned a ton in his half-century on this planet, and gratitude runs deep in his veins. He's thankful for life itself, for his loving wife and family, and for the steady ship of stability he sails on. And when it comes to his birthday wish list, it's all about the good stuff—peace, joy, health, wisdom, and love all around. Oswald's life is a true testament to the power of staying grounded, staying kind, and staying open to all the adventures life throws his way.
Cheers to Steroo at 50!